I know I'm way behind on getting this up. The conference was over a month ago. I came home and spent the first week just not doing much of anything. Then the second week a sinus infection moved in and I've been pretty much inactive since. Thankfully, as we move closer to the holidays I'm finally feeling like prepping for celebrations.
I shared a table with
Tierney James
. My half was ready for Christmas. Along with my books, I had a crystal dish of mini Hershey Chocolates wrapped in bands of Christmas scrapbook paper - the cut offs from the booklets I made to give away. Those are in the cherry-wood box on the far right. I made a booklet similar to
THESE
found on Frances Thomas' blog.
The booklets were approx. 3" x 4" when closed. I had copies of my the front and back covers of the book printed on gloss business card cardstock at Office Depot. I placed the cover on the front, the back on the inside front then my social media links mat on the back. The inside right formed a diagonal pocket to hold a tea bag.
The folks at
Bigelow Tea
were kind enough to work with me in creating my promo piece. I purchased three of their
Seasonal Gift Boxes
, giving me a wide variety of holiday tea flavors to tuck inside.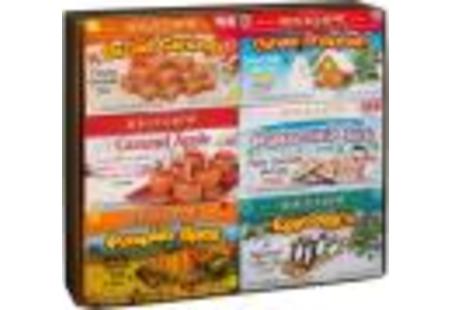 I also offered the chance to win a tea pot/ cup/ saucer set when people signed up for my newsletter.
I had the honor of speaking this year. I presented a workshop on Social Media - Choosing Your Top 3. I still want to put that into a workbook to have available some time after the first of the year. I received great comments on the workshop though I felt rushed.
Our keynote was the extremely talented
Tess Gerritsen
. Tess is as down-to-earth as you will ever find on the New York Times Bestselling list of authors.
For entertainment, there is Open Mic on Thursday night, performer on Friday night then the Awards Banquet on Saturday.
This year's Friday entertainment was Tessa Kate (2014 American Idol contestant).
The highlight of the conference, for me was the opportunity to remember a dear friend, and OCW board member, Dusty Richards:
Courtesy of Encyclopediaofarkansas.net
After dinner on Friday night, several of us sat in a circle and shared memories. Here is Casey Cowan proudly wearing one of Dusty's Stetson hats. Dusty thought of Casey as a son.
My last visit with Dusty and his wife Pat was during the premiere of
PAINTED WOMAN
- inspired by his 150th novel, The Mustanger and the Lady. We met up in Poteau OK. I felt honored sitting with this couple as we watched the adaptation of his book come to life. You can see my write-up about that weekend HERE on my CountryAngel blog
Afterwards, we gathered at the local Western Sizzlin to celebrate his 85th birthday - the last he would see. Though I have photos very similar to these, I can't locate them. These pictures were taken by the movie photographer, Priscilla Tran.
Dusty's dual celebration cake
Dusty with Painted Woman writers
Amber Lindley and James Cotten
No conference is complete without food. Years of experience at OCW have shown the best food is a buffet. The plated stuff tends to become rubbery by the time you sit down to eat and who wants 'rubber chicken'? The buffet provided by the catering at Inn of the Ozarks has something for everyone.
Saturday also offers a carving station of ham and beef roast.
Finally, here's a few shots of people I look forward to meeting up with every year. Some I only see at OCW:
Jodi Thomas is our keynote! I adore Jodi. She is a talented author and a pleasure to visit with.
Tomorrow, I shine the spotlight on Fran Thomas. Come by and say hello!